This is the big one, 920 is here!
Magic Mushroom Day has arrived, 20th September; and in the spirit of the event we want to suggest some fun ways you could celebrate this mushroom-flavoured occasion with family and friends. Better known as "920" the relatively new event (circa 2015) seeks to champion and honour the many boons and uses of magic mushrooms across the globe. But before that let us first explore what is 920 and where did it come from?

What is 920?
Founded in the US by Nicholas Reville, the '920 Coalition' under the slogan "Mushrooms are medicine", operate an organization that seeks to "encourage dialogue, raise awareness and create a community around the intelligent and beneficial use of psychedelic psilocybin mushrooms". In doing so they want to create a world where adults are free to access magic mushrooms and live healthier happier lives if they wish to do so. By collaborating with other organizations across the globe such as The Psychedelic Society and the Beckley Foundation, the Coalition created the 920 event to be too mushrooms what 420 is to marijuanna. However there is a main difference with it being that 920 isn't about partying or taking psychedelics as much as it is trying to raise dialogue around psilocybin both medically and politically.
What you can do for 920!
So 920 is a day all about celebrating magic mushrooms for what they are, or almost undeniably seem to be, a wonderful and magical substance with great potential for healing and spirituality. So how can you celebrate this day? Well, the main goal of the event is, metaphorically speaking, to bring people to the table for discussion. And what better way to do this than to actually bring people to the table with a potluck picnic or BBQ, food has always been a great way to break down barriers and create community through the ages.
​
Another way to gear people towards mushrooms in general, is to hold a cultivation workshop with some local mushroom growers or enthusiasts. As most tenants of mushroom growing overlap between the various species of fungi this is a great way to learn togehter how to grow mushrooms, but if you do not want to start all the way at the beginning of growing you can just check out our growkits. Another suggestion we have, could be a local movie night, all you need is some speakers and a big screen or projector. There are absolute troves of awesome movies and documentaries about magic mushrooms, plant medicines and psychedelics in general, which can all go a long way in educating people of the experiences of psilocybin or similar substances.
A day for magic mushrooms?
It goes without saying, of course, that one of the best ways to further understanding and dialogue of magic mushrooms on a personal level, is simply to take some. Although the act of taking shrooms doesn't help their political fight in itself, sharing the experience with others most definitely can. A great way to spend the day would be by engaging in one of the events we suggested above and perhaps, during this you came across like-minded people and discussions headed towards the notion of taking a trip together. A psychedelic integration-circle around a campfire could be a perfect way to introduce the more inexperienced of us to the world of magic mushrooms. For every person that has a positive experience and goes on to share it, the fight for the social understanding of magic mushrooms takes further steps towards the goal of full legality in the world and access for all in the future.If you like you can check out our truffles for a ready to eat experience.

Raising awareness for a better future!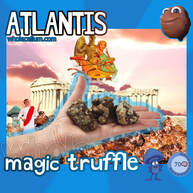 We truly hope you engage with this event in some way or another, safely though we might add, and that the suggestions above help stir your creativity and give you the will to help raise awareness for yourself, friends, family and neighbours as this is one of the best ways to push the legal and political fight for magic mushrooms around the world. Which is what this day is all about in the end!
Discount coupon
Of course we want to celebrate with you as well!! That is why we have a discount weekend, check out our special page and find our 920 discount coupon!